Pet Week - The Farm
---
And this is where we will be for the pet week...

Click on a picture to take a closer look. For more information about SISC, who runs the farm and offers S&M vacation, look at www.sado.dk.

Hier findet sie statt, die Pet Week...

Klick auf das jeweilige Bild für eine Vergrösserung. Bei www.sado.dk findest Du mehr Informationen über SISC, den Betreiber der Farm, der auch SM-Urlaubswochen veranstaltet.
The Outside / Das Aussengelände
The inner yard with the diner in the background and "the bishop" in the middle.

Der Innenhof mit dem Diner (Speisesaal und Gemeinschaftsraum) im Hintergrund und dem "Bischof" in der Mitte.

On the left of the diner is the dormitory.

Links vom Diner ist das Dormitory (Schlafsaal).

The door in the background leads to the playrooms and the main dungeon, while the steps go up to "clinic" and "school room".

Hinter der Tür im Hintergrund sind die Spielräume und der grosse Dungeon. Die Treppe führt zu Klinikraum und Schulzimmer.

No, this is not a garage but the entrance to the leather workshop.

Dies ist keine Garage, sondern der Eingang zur Lederwerkstatt.



The pony yard, or the dog training area, or... This yard is right behind the diner and the main dungeon.

Die Pony-Koppel oder der Hunde-Übungsplatz oder... Dieser Platz liegt gleich hinter dem Diner und dem grossen Dungeon.
The Diner / Der Speisesaal
The bar. Coffee and tea are available for self service all day long.

Die Bar im Diner. Kaffee und Tee gibt es den ganzen Tag zur Selbstbedienung.

Guests can store here their chocolate or whatever. The fridge on the right contains soft drinks and beer for you to buy.

Unsere Gäste können hier ihre Schokolade oder sonstiges kühl halten. Die Getränke im rechten Kühlschrank kann man kaufen.

This is what the cook calls "a snack"...

Dies nennt unser Koch einen "Snack"...
The Dungeon / Der grosse Spielraum
You don't need any explanation for this, do you?
Hierfür braucht es keine Erklärung, oder?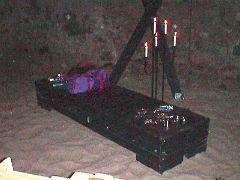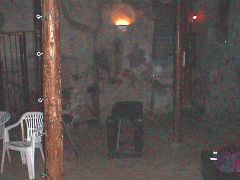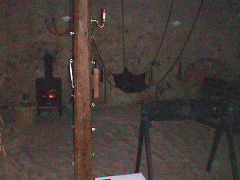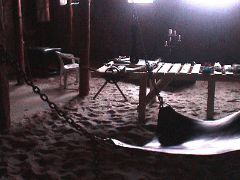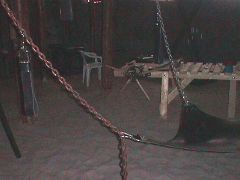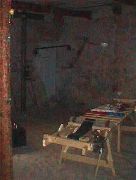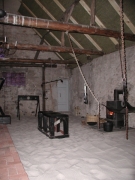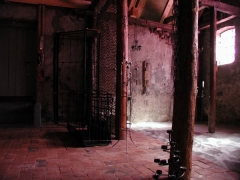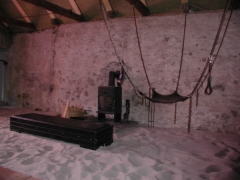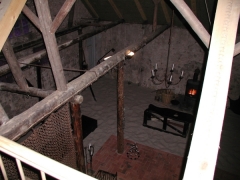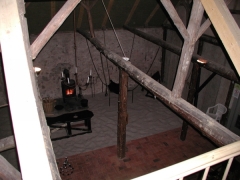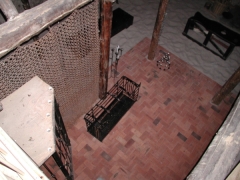 Not Shown

The other playrooms
Shower and sauna
The leather workshop
Area for tents and caravans
The "tower"
... and many more details, including the other guests you'll meet

Nicht abgebildet

Die anderen Spielräume
Duschen und Sauna
Die Lederwerkstatt
Der Bereich für Zelte und Wohnwagen
Der "Turm"
... und viele weitere Details, inklusive der anderen Gäste, die Du hier treffen wirst.